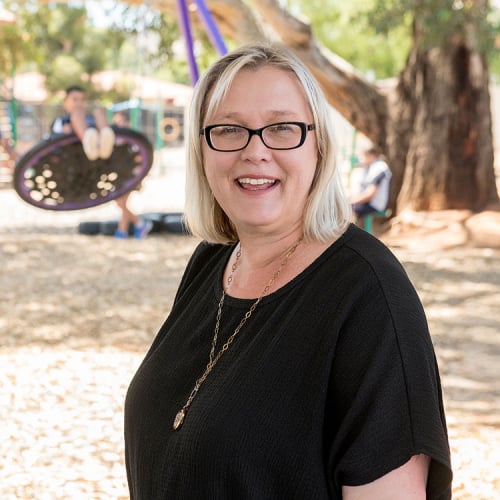 Julie Murphy
Elizabeth Vale School, SA
Teaching Fellow
Elizabeth Vale School in Adelaide's northern suburbs has almost doubled in enrolments since Julie Murphy became principal eight years ago.
The school community experiences high unemployment and economic disadvantage, with many of its students from refugee backgrounds and one in six is Indigenous.
Committed to a career as a school leader in low socio-economic areas, Julie's research led her to the evidence of neuroscience that children exposed to trauma often need to acquire skills to regulate emotions and behaviour before they can settle to learning.
She developed a trauma-informed school by creating a strong targeted intervention program, investing in staff training in positive education and hiring specialist speech therapists and literacy coaches to focus on lifting reading achievement.
There was significant improvement in student behaviour and wellbeing. Year 1 students attaining the Standard Education Achievement in reading has risen from 44 to 73 per cent in the last three years. Purposeful and meaningful connections have been established with families and community agencies, and Elizabeth Vale is now the school of choice for Bhutanese, Syrian and Aboriginal families in north Adelaide.
Julie is relentless when it comes to giving marginalised learners the best opportunities possible.