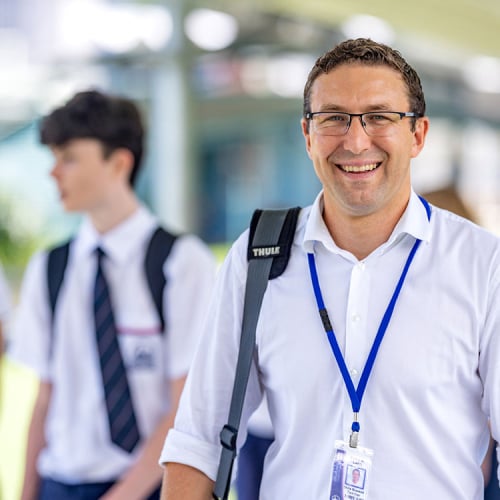 Chris Buswell
Mountain Creek State High School, QLD
Teaching Fellow
When Chris Buswell led the International Baccalaureate program at Mountain Creek State High School, students excelled both academically and holistically.
Then, as the school's STEM co-ordinator, Chris collaborated with the University of the Sunshine Coast's visualisation team to create an immersive 3D and virtual reality experience in which students learn complex chemistry concepts.
As a result of this and his ability to inspire academic excellence, his students are performing better and winning awards for STEM Excellence, and more school-leavers are studying locally, helping to halt a "brain drain" on the Sunshine Coast.
Chris' experience now extends to leading his school's critical thinking strategy as the Higher Order Thinking Coach. As part of his role, he established the Sunshine Coast Critical Thinking Hub to improve pedagogical knowledge and collaboration across the region.
In 2019, Chris was named Teacher of the Year at Queensland's Showcase Awards for Excellence in Schools.
He plans to modify the university's on-campus immersive chemistry experience for the classroom, with the aim of improving chemistry outcomes for every Australian student.
Using his considerable leadership skills, Chris is also part of an Australia-Papua New Guinea STEM project to lift secondary school capabilities.