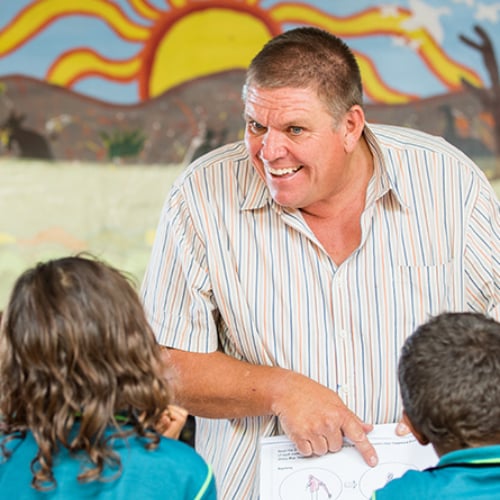 Wilbur (Charlie) Klein
Tjuntjuntjara Remote Community School, WA
Teaching Fellow
Why did you apply for a commonwealth bank teaching award?
I applied because I received a nomination and because it would recognise the effort our school community and remote schools make for indigenous children. It also provided the chance to access further funding for our school to develop our two-way learning project and the opportunity to engage in high quality professional learning with an amazing group of educators.
How has becoming a teaching fellow benefited you?
It has provided me with motivation and extended learning that are having a positive impact on my work. The opportunity to learn with such a diverse talented group of educators, to experience the professional trips to Singapore and Sydney, and the informal discussions have been significant, especially considering the remote context I live and work in. It has been informative, clarifying, challenging, enjoyable, of a high standard and has given me the motivation and confidence to step out and engage with others and share our knowledge and initiatives. I have completed interviews for education magazines, journals and newspapers that have provided a medium to share the good story of our work and remote schools across the nation. Based on the significance and strength of the Award, I am presenting at the National Aboriginal Education Conference with two Community members and at the Society for the Provision of Education in Rural Australia Conference with Notre Dame University. I have been instrumental in establishing and facilitating a "Collegiate" Principals' forum encompassing remote schools covering an area bigger than Victoria. The Award has increased my confidence to step out and have an influence.
How have your school and your students benefited from your award?
The school community has benefited from the recognition that good things happen in spinifex country. It has enabled the implementation of our "Two-Way Science" project as an extension of our on-Country Learning program that brings local knowledge and culture into school learning, supporting the science, numeracy, literacy, history, and other curriculum areas. This is significant for the wellbeing of children and the community in a very demanding cross-cultural context where intergenerational trauma is evident. It is strengthening the school and the school community.
What has been the highlight of becoming a teaching fellow?
The highlight has been the shared learning opportunities and the encouragement and expectation to keep up the effort and make a difference.
What advice would you give any teachers or school leaders thinking about applying this year?
Step up and complete the application. Let people know what you are doing. I know there are many wonderful educators across our nation. Be one that will take on the challenge and share your work with others.