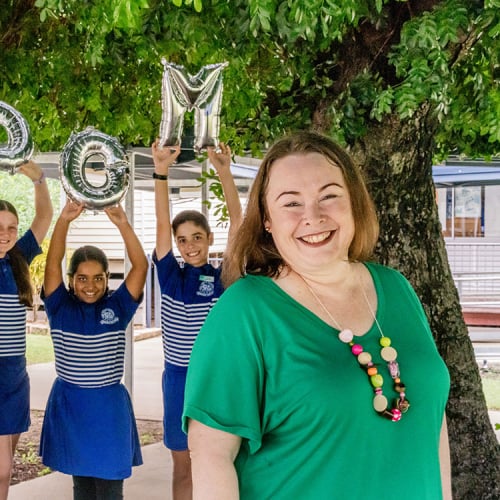 Wendy Goldston
Frenchville State School, QLD
Teaching Fellow
Wendy Goldston has drawn on her almost 30-year career to design and lead an unparalleled program which is transforming learning and bringing out the best in identified high achievers at her Central Queensland primary school.
Catering to more than 180 students at Frenchville State School, the Bringing Learning Opportunities to Outstanding Minds (BLOOM) program is distinctive. Employing her unique pedagogy, Wendy constantly places students in The Learning Zone and is fostering growth mindsets. She extends and enriches learners through creative real life and life-like context based units that link directly to the Australian Curriculum and embed creative and critical thinking.
Challenged by academic rigour, BLOOMers actively engage in the collaborative, inspiring and ever-changing learning that Wendy – affectionately known as Mrs G – has designed.
BLOOM has reinvigorated high achievers, as Wendy makes learning come alive. Witness to their children's passion and the benefits of the program firsthand, parents are staunch supporters of the program within the wider school community.
Wendy's zest and commitment to innovative teaching and learning have been recognised by the Queensland College of Teachers, A Day Made Better Teaching Awards, as well as her guest lecturing at the Central Queensland University.