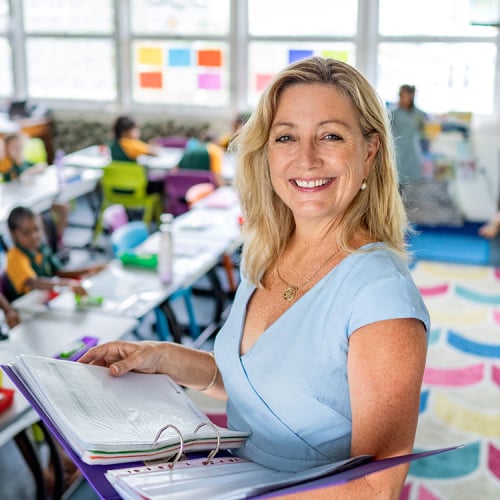 Sharon Case
Mossman State School, QLD
Teaching Fellow
Sharon Case has spent 30 years teaching the Japanese language and as Head of Teaching and Learning at Mossman State School where more than half the students are Indigenous, it seemed right to introduce the local Aboriginal language.
After an extended 18-month consultation with elders and leaders of the five local Aboriginal clans, Sharon, along with community elders, was instrumental in developing a Kuku Yalanji language program at the school.
Beforehand, the language was in danger of being lost, with Indigenous elders being the only fluent speakers in the community. Now, overseen by a community-created group, all Mossman students from Prep to Year 6 learn the language.
Attendance, behaviour and achievement have improved, and enrolments have grown, as the Indigenous community embraces the respect shown for their language. A greater understanding of Indigenous culture has also been developed across the school and the community.
Sharon is driven by an extremely strong sense of social justice. The school received the Showcase Award for Excellence in Aboriginal and Torres Strait Islander Education in 2019, but perhaps the most precious honour for Sharon was hearing a Kuku Yalanji elder, Mr Ray Pierce, say he could die happy knowing his language would live on.