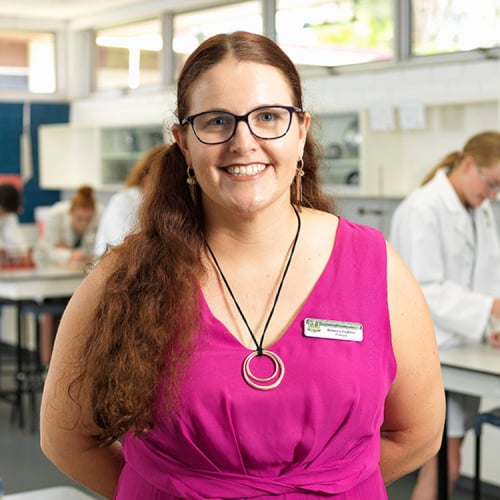 Rebecca Godfrey
Blackwater State High School, QLD
Teaching Fellow
I passionately believe that teachers have a huge influence over students and can make all the difference for them. Being in a rural school, much of my work is in supporting beginning teachers to become good teachers, and good teachers to become the leaders of tomorrow.
Special relativity and quantum mechanics were not cutting through with students studying physics for electrical and other trade apprenticeships. So Rebecca Godfrey developed her own course, more relevant to the needs and experiences of her students in the mining communities of Central Queensland, and advocated until it was recognised by the Queensland Curriculum and Assessment Authority.
Working directly with the mining industry, Rebecca, now the principal of Blackwater State High School, developed an approach to physics, chemistry and maths that addressed core scientific concepts while applying them to the electrical and other trades. Students engage much better with the QSMART (QMEA Science and Maths and Related Technologies), with high pass rates and acceptance into apprenticeships.
The course, now nearly a decade old, is deeply integrated in several central Queensland schools and at a Trade Training Centre in North Queensland and provides a pipeline of employment opportunities into local industries.
Rebecca says teachers have a responsibility to advocate for students' needs. "I passionately believe that teachers have a huge influence over students and can make all the difference for them. Being in a rural school, much of my work is in supporting beginning teachers to become good teachers, and good teachers to become the leaders of tomorrow."