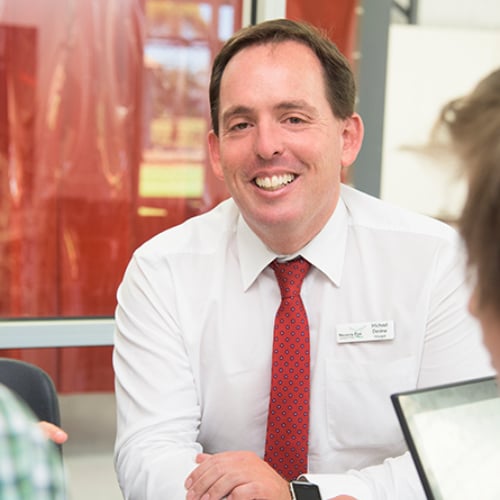 Michael Devine
Western Port Secondary College, VIC
Teaching Fellow
Why did you apply for a commonwealth bank teaching award?
I was inspired by the Teaching Awards and Schools Plus wanting to acknowledge and celebrate the work of teachers and educational leaders and I got a sense of the passion and commitment towards that outcome.
In the application, you wrote about how you've been transforming outcomes for your students. Tell us what you've been doing, and what the results have been.
Broadly it has been about turning the school around from going backwards and highly underperforming to progressing and moving forward. The key areas of transformation have been around providing multiple pathways for students to remain engaged in education, stay at school and complete Year 12; and improving the learning outcomes – what we are doing with students whilst they are at school. This work has been achieved through restructuring the leadership team, professional development of staff, a revamped professional review process and the development of differentiated and engaging teaching and learning programs. This has led to significant school-wide improvement in learning growth and achievement outcomes.
How has becoming a teaching fellow benefited you?
It has been incredibly stimulating and professionally rewarding to be a Teaching Fellow. I feel that it has opened up a level of recognition and celebration of the work we do that just has not been prevalent in Australia before. The learning has been really profound not just from the masterclasses, workshops and the study tour, but in particular, the learning from the other Fellows and their experiences.
What has been the highlight of becoming a teaching fellow?
It is hard to pinpoint one thing. The Awards Event and the experience in Sydney was great and Singapore was amazing both as a collegiate and professional learning experience. I think overall though the opportunity to work with, learn from and collaborate with such a diverse and amazing group of talented educators facilitated by Schools Plus has been the highlight.
What advice would you give any teachers or school leaders thinking about applying this year?
Don't underestimate just how amazing and rewarding this experience is. Don't be put off by writing the application – it's not that onerous! My advice would be to give careful consideration about what types of data and evidence you can provide to demonstrate the transformation you are achieving in learning experiences and outcomes at your schools.