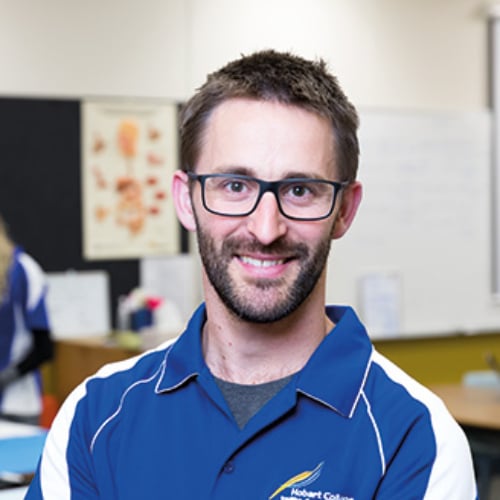 Matthew Eyles
Hobart College, TAS
Teaching Fellow
Matthew Eyles has an unusual background which leads to unorthodox solutions to age-old problems, such as the conundrum of how to involve disengaged students in classroom life.
Both science teacher and registered nurse, Matthew developed an introduction to nursing course to his Hobart secondary school two years ago, setting up a simulated five-bed hospital space in the classroom and an interactive website to guide learning. Students are exposed to real-world experiences, including through regular visits by local aged care residents. With constant support from the nursing students, the residents paint with art students, get pampered by hairdressing students and watch concerts by music students.
The course, with three pathways ranging from a taste of nursing to attainment of a Certificate III, has been a game-changer. Student enrolments have more than doubled in three years and graduates have found health sector jobs or gone on to tertiary health courses.