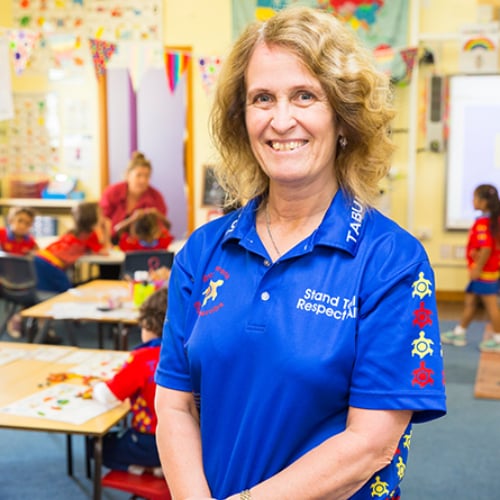 Lesley Mills
Tabulam Public School, NSW
Teaching Fellow
How has becoming a teaching fellow benefited you?
It has been inspirational and thought provoking with the promise of building a deep conversation around educational culture in Australia. The Fellowship award has motivated me to continue to explore innovative solutions to providing equity and excellence in education for all students. The $10,000 Professional Learning award will be a great asset for my own leadership development and increase my capacity to support others in their own professional journey.
How have your school and your students benefited from your award?
Our school has benefitted from the recognition that we are doing something well and that a small, isolated, rural school can be successful in this arena. The award has improved the profile of the school in the local and wider community, something which is valued by all stakeholders. The $30,000 received will enhance student opportunity to develop a meaningful project about their culture.
What is the program you're implementing at your school as a result of the award?
'Learning for the future through Wahlabul culture' will be implemented for students to develop student agency and self-motivation through sharing cultural knowledge with a global audience. Students will be supported to create innovative learning spaces to facilitate project-based learning around the production of high-quality resources reflecting Wahlubal cultural knowledge and understanding. The valuing of cultural knowledge in an education setting will help students to build literacy and numeracy skills through real-world, authentic project development.
What has been the highlight of becoming a teaching fellow?
The highlight has been meeting the other Fellows and engaging in stimulating, professional dialogue about education; what it means and where it needs to go to positively develop our community. The visit to Singapore was invaluable in building relationships with the group and examining a high-performing education system to see how things can be done differently and where we could aspire to go as a country for the education of our children.
How do you see the teaching fellows working together to influence teaching in Australia?
Highlighting what works for students will be the main driver of the Teaching Fellows and demonstrating this through the sharing of our own projects will be critical.