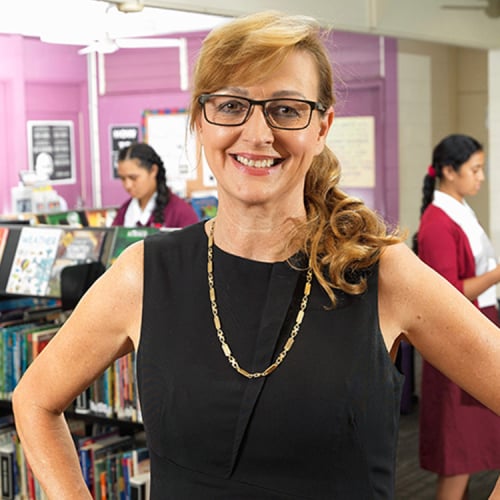 Donna Harvey
Beenleigh State High School, QLD
Teaching Fellow
Our new approach is achieving exceptional results in integrating traditional school subjects with employment readiness; the number of students undertaking full-time school-based apprenticeships more than doubled.
A rigorous approach to reading, in which students at all levels receive explicit instruction to extend their comprehension, is anchoring a revolution in achievement at Beenleigh State High School in Brisbane.
Deputy principal Donna's "sharp, narrow focus" on reading saw Beenleigh named the 7th most improved school in Australia across all NAPLAN domains in 2019, as better literacy pays dividends in numeracy and other curriculum domains. And the 12% of students who are Aboriginal and Torres Strait Islander have performed as well or better than others since the new reading regime began.
But the transformation is not limited to academic subjects. Addressing the needs of the three-quarters of Beenleigh's 1350 students who go straight into the workforce after school, Donna has developed a "micro-credentialing" system to recognise initiative, creativity, problem solving, collaboration and self-management, and other skills and orientations highly valued by employers. She also instituted secure "digital badges", through which students can demonstrate they have achieved a skill, and these are gaining recognition among training agencies and local businesses.
Thanks to the changes, more students are signing up for full-time school-based apprenticeships or enrolling in one or more vocational certificate modules while finishing school.