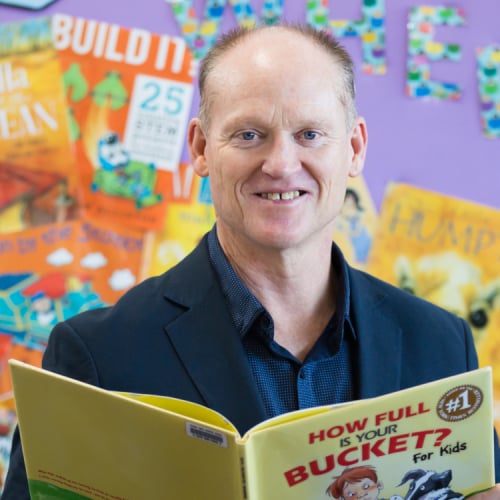 Brendan Kenna
Wilmot Road Primary School, VIC
Ngurraiillam Country
Teaching Fellow
As Deputy Principal at his regional Victorian school, Brendan has combined his passion for neuroscience and the impact of trauma on learning to create a unique culture of support for the students at Wilmot Road Primary School. Through an innovative, evidence-based sensory program and trauma-informed interventions, Brendan is helping to shape new education practices for students who have additional needs.
Chairing the school's pediatric program, Brendan manages 20 multidisciplinary clinics annually and leads the development of 'sensory profiles and sensory diets' for students. In one of the most disadvantaged schools in the state, his initiative and leadership has led to the establishment of a purpose-built sensory room and a flexible indoor-outdoor program that has helped to transform his students' learning and the school's capacity to support wellbeing. Students participate in targeted interventions that enable them to remain in their optimum learning zone to maximise learning capacity.
Promoting a culture of wrap-around support for his students, Brendan's impact has extended beyond the classroom. A key focus of the program's efforts is engagement with families to upskill them in 'Zones of Regulation' – resulting in higher levels of confidence for parents and an increased ability to support their children at home. He also works with teachers at other schools and has presented at conferences to share the insights and impact of his ground-breaking work.
With an eye to his students' futures, Brendan also coordinates the school's scholarship program. His commitment to equity and social justice has unlocked new funding from local businesses to assist children's access to a quality education and provide pathways into careers in local industry.