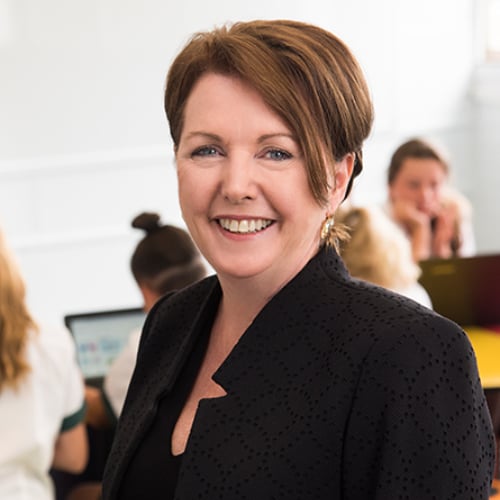 Belinda Wall
Woonona High School, NSW
Teaching Fellow
How did you find the application process?
The process did take time but was not difficult, particularly when you are sharing your students' achievements and those of your staff. It provided the opportunity to share your vision of what you hope to achieve for students, to dream big, to articulate "if I had the chance this is what I would do". It is not often you have the freedom to do this, generally applications for funds are 'tied' to a particular program or initiative.
In the application, you wrote about how you've been transforming outcomes for your students. Tell us what you've been doing, and what the results have been.
We embarked on a very specific, strategic program to lift the aspirations of our HSC students. The program has explicitly supported, mentored and tracked our students leading to improved HSC results and vastly increased numbers of students transitioning to university. An integral aspect of the program has been the engagement of parents providing them with the language and understanding to partner with the school in supporting their child achieve their potential.
How has becoming a teaching fellow benefited you?
Personally, it has been very humbling but professionally it has been invigorating; to learn from and be inspired by an outstanding group of educators who have embarked on a journey of school improvement, improving learning outcomes for students in creative and innovative ways.
What has been the highlight of becoming a teaching fellow?
The awards ceremony at the Maritime Museum was surreal and it was wonderful meeting and speaking with so many of the pioneers who were extraordinarily generous with their time. However, the week in Singapore was amazing at both a professional and personal level. The calendar of events arranged for us was exceptional but the opportunity to really get to know and bond with the other Fellows was priceless.
How do you see the teaching fellows working together to influence teaching in Australia?
That we represent nearly every state or territory and have all achieved significant success for students within the structures of our respective departments is a wonderful platform to begin the national conversation. To collectively share our respective success in improving student learning outcomes showcasing innovation and creativity in approach.
What advice would you give any teachers or school leaders thinking about applying this year?
Back yourself, share your success and dream big.