A child's success at school should not be dictated by their postcode.
Schools Plus is a national charity that exists to help close the education gap caused by disadvantage. We work closely with teachers and school leaders to bring about positive and lasting change that will help their students succeed.
After droughts, devastating bushfires, and the ongoing impact of school closures across Australia due to the COVID-19 pandemic, it has been a difficult time for teachers and students. As a result, we have seen a strong emphasis on the need for programs to support mental health and wellbeing.1 Our grant application round in 2021 saw a significant number of applications for projects with this focus, with projects supporting mental health and wellbeing receiving the highest percentage of applications (27%).
At Schools Plus, we have directed nearly $27m in support for students since our inception in 2015, and approximately 25% of those funds have been used to support the mental health and wellbeing of students to some extent, either as the primary focus of a project or as a secondary benefit, for example from an initiative supporting student re-engagement.
There are some common themes that are emerging from projects that have delivered significant change for student mental health and wellbeing.
---
1. Establishing a shared vision for change
School leaders enabled a shared vision focused on mental health and wellbeing to be developed and embedded as part of the school culture. Leaders were inclusive, involving staff, students, families, and the local community in creating that vision. They built positive relationships, encouraged an element of challenge, and nurtured a shared commitment to positive change. This manifested itself in school mission statements, school policies and protocols e.g. behavioural management policies, staff room culture and engagement with families and the broader community.
Case study: Woy Woy South Public School: Aspirational leaders
Woy Woy South Public Primary School in northern NSW is committed to creating aspirational students who have the confidence, skills and behaviours to pursue academic success and become lifelong learners.
This project involved the implementation of the AVID (Advancement Via Individual Determination) program which focuses on the development of students' academic, social & emotional skills to be successful at high school and tertiary education. The program aligned with the school strategic plan and integrated in an inclusive and collaborative manner involving all members of the school community. Teaching staff were supported with professional learning focused on explicit teaching skills. Students' families and the local community were engaged with training to support their understanding of the program and to develop their ability to promote and celebrate high aspirations and academic success with their children.
Using new tools and strategies, students became more engaged and developed a more positive attitude to learning and extra-curricular activities. They were organised, able to recognise and self-regulate negative behaviours and mindsets and were supportive of others. Leadership at all levels grew, respectful relationships with parents and children increased and readiness for parents to engage in conversations about learning became more apparent.
Woy Woy South Public School was supported as part of the NSW 3-year Fair Education program in 2016. The project concluded in 2019.
---
2. Developing a strong culture of professional learning and development to improve teaching practice around mental health and wellbeing
Embedding a culture of professional learning and developing knowledge and skills in social and emotional interventions through teacher professional development and training were strong areas of focus. For example, equipping teachers with approaches that can positively impact students' attitudes to learning and teaching the skills to establish positive relationships, remain motivated and manage challenging situations. Professional development to support the effective use of digital technology in supporting mental health and wellbeing was also a part of some school strategies.
Case-study: Crookwell High School: Positive Education
Crookwell High School had increasing numbers of students presenting with serious mental health problems, as well as decreased attendance due to the anxiety some students experience by going to school. Located in rural NSW, it was difficult to access relevant mental health services.
The school identified the need for a tailor-made plan focused on Positive Education to strengthen student wellbeing. Some staff received training in the Berry Street Education model, and others were trained in programs including the Doughnut resilience model and white ribbon training. Year 10 peer leaders were also trained in the Resilience Doughnut and successfully delivered training to other students.
Despite the impact of Covid on planned engagement with feeder schools and parent and community groups, there was a high level of community engagement.
"The project implemented in our school during 2018-19 has had a substantial impact in reducing the number of significant behaviours by over 40% and increasing on-task learning in classes by students by approximately 25% school-wide." – Crookwell
Crookwell High School was supported as part of the FY2019 Smart Giving program. The project concluded in 2020.
---
3. Engaging family/carers in student learning and connection to school
Schools focused on supporting carers' positive aspirations for their child's learning and meeting the unique needs of the families in their school community. Approaches to support family/carers to engage in their child's learning, including knowledge and skill development, and to make the school as welcoming as possible were implemented. Several (17%) reported that strengthening partnerships, for example with community agencies and education systems, was a significant positive change in the way they approached their work in supporting children's wellbeing and learning.
Case-study: Elizabeth Vale Primary School: Working Together Community Education Project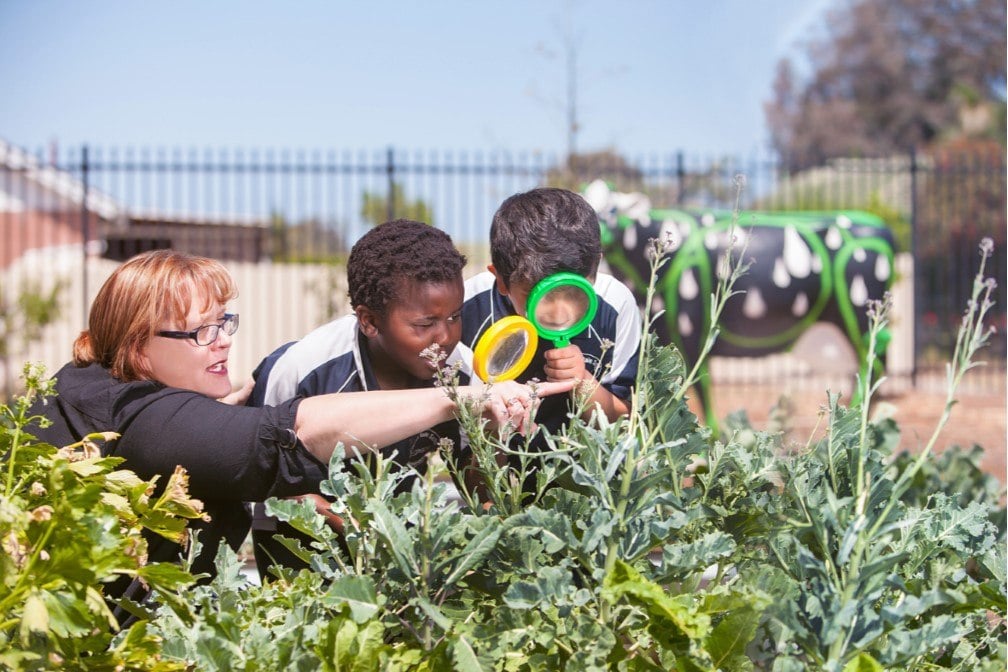 Elizabeth Vale Primary School recognised a need to engage and empower parents to address issues that impact on their lives and to support their children to be successful at school. Their Working Together Community Education Project sought to engage, support, and empower families and carers to provide a safe and nurturing environment for their children. It did this by assisting them to connect and access services, develop their knowledge and skills, and build their confidence as carers of school-aged students. A Community Connections Coordinator was engaged and played a key role in developing a culturally diverse playgroup.
As a result, most families became comfortable and confident to approach the school, the number of parents accessing services doubled (from 21 to 43) and parent attendance at teacher-parent interviews increased. Students also grew in confidence, willingly participating in community youth initiatives such as creative arts, sport and volunteering, and together with their carers, accessing a variety of out-of-school activities. Teachers, ancillary staff and families also developed greater awareness and understanding of cultural backgrounds and the challenges faced, and staff practices reflected greater inclusiveness.
Elizabeth Vale Primary School was supported as part of the FY2019 Smart Giving program. The project concluded in 2020 and continues to focus on building carer engagement and independence in supporting their children's learning.
---
4. Building student confidence as independent learners and strengthening student voice
This final theme was adopted by several schools who identified that creating a culture of achievement could help support their students with their mental health and wellbeing. Students who have agency in their learning are more motivated, engaged and experience greater satisfaction in their learning. Consequently, they are more likely to achieve academic success. Equally, enabling students to think about their own learning and equipping them with strategies to self-regulate, can have high levels of impact (up to an average of + 7 months2 of growth). Encouraging students to embrace leadership opportunities helped develop effective communication and interpersonal skills and contribute to decision making.
Case-study: Colyton High School: Everyday Leaders
The school recognised the need to increase student engagement and connection with school by empowering them with the skills and knowledge to be 'everyday leaders'. This program planned to support young people as community members, as students at school, and be beneficial to their future employment.
The multi-dimensional 'everyday leader' project included a research phase, co-design of the Everyday Leader Support program, a mentoring initiative, and activities to encourage parent inclusion. Students, parents, and community members, including local businesses and allied health professionals, partnered with the school.
This engagement of students has allowed students to connect to their school and form meaningful relationships with the staff. Student enrolment numbers have increased which is having a positive impact on the wider community, and strong relationships have been established with parents, who are feeling more confident in supporting their child's future.
Colyton High School was supported as part of the NSW Fair Education program in 2018. Fair Education involvement concluded in May 2021, but the project continues to evolve and grow, led by the school leadership.
---
The insights we have summarised in this article will also be used to help guide and support other schools looking to address the mental health and wellbeing of their students as part of Schools Plus' Knowledge Sharing Program. As of September 2021, we have received 129 applications for support in this specific area.