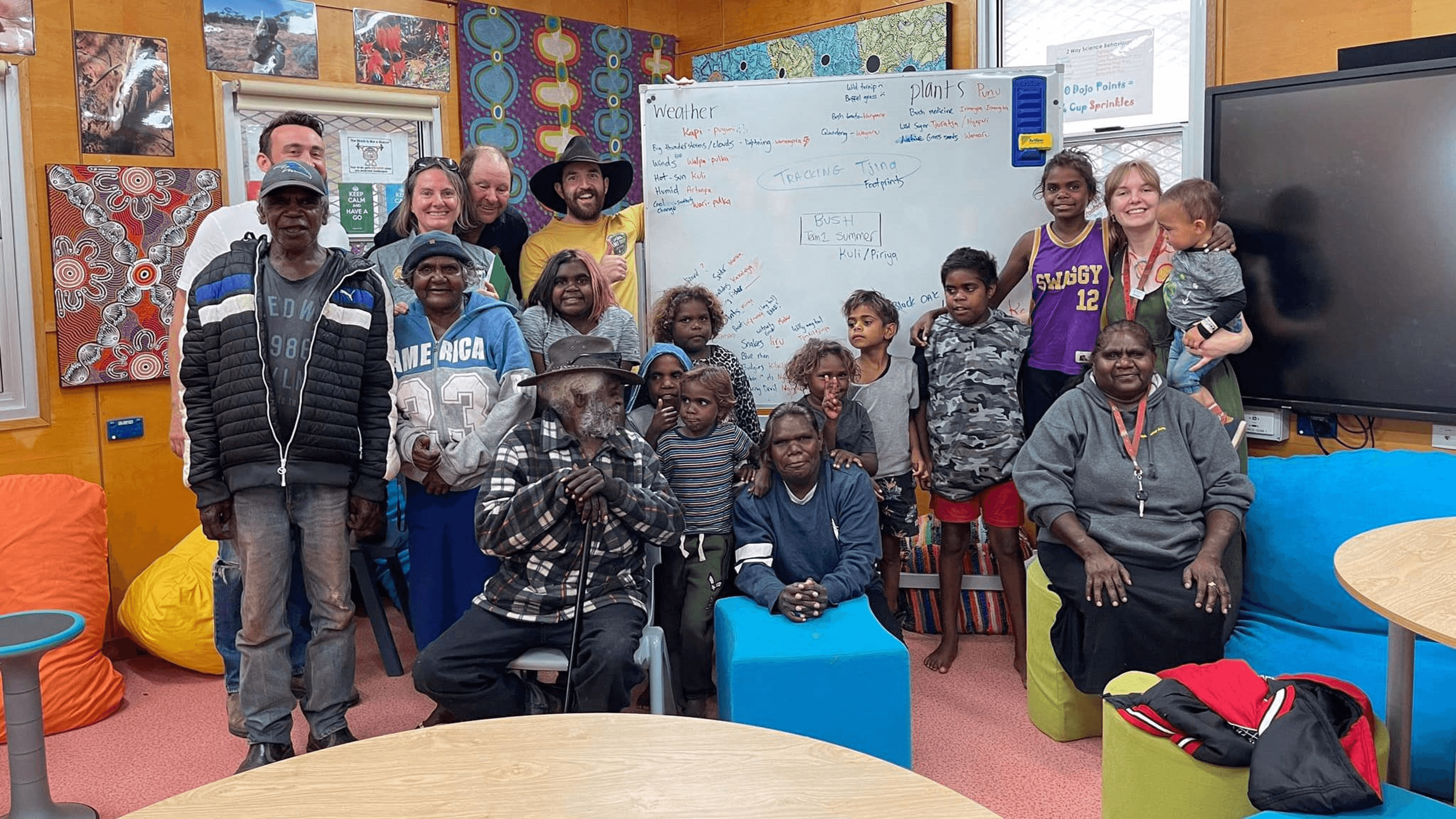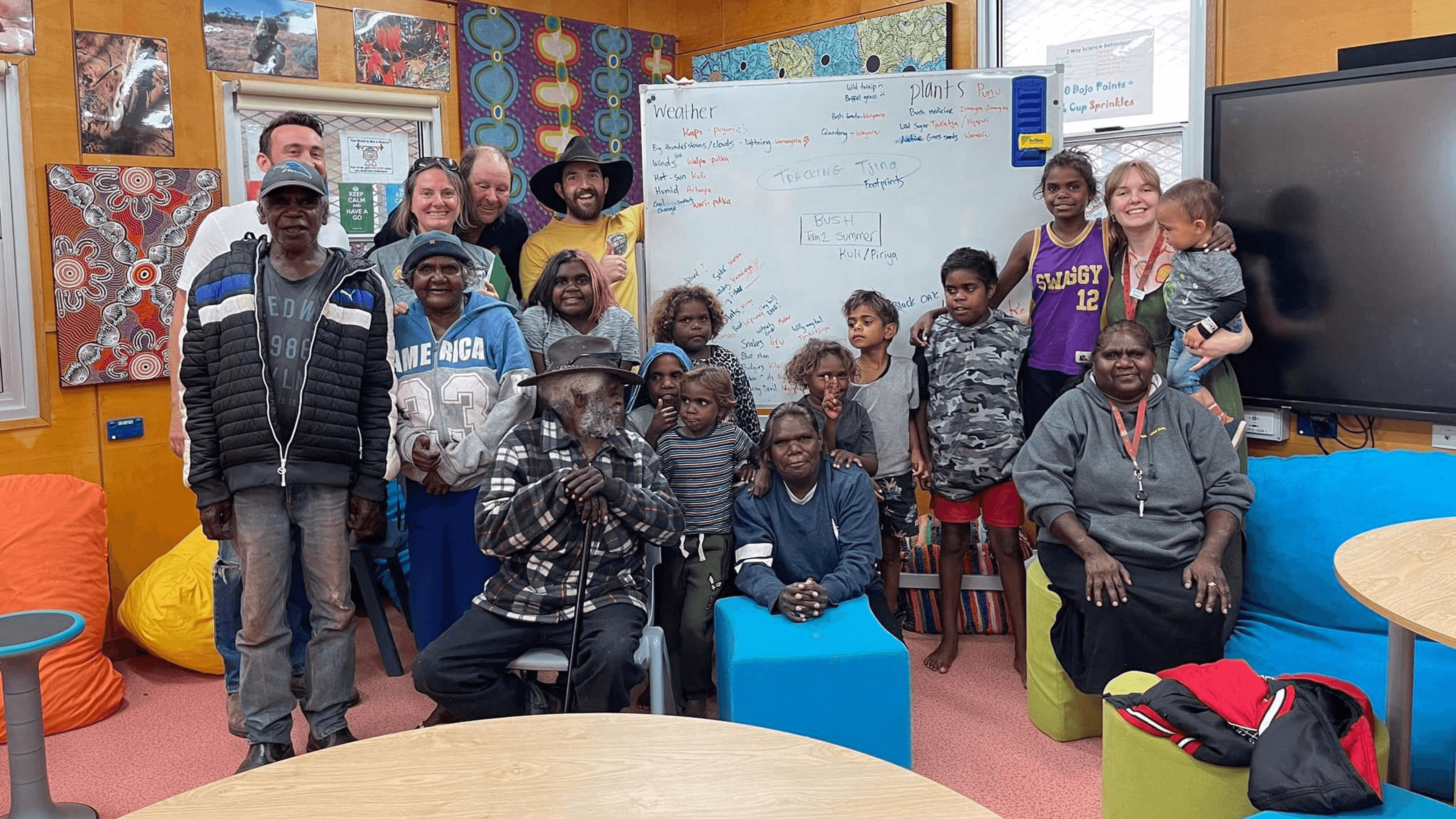 A group of 6 remote schools in South Australia wanted to improve how students were engaging with culture and learning. High staff turnover and a western-oriented curriculum made it hard to form genuine partnerships with the local community, and their students were becoming disengaged.
Together, with support from Schools Plus and SciDev, the schools are working together on an innovative Two-Way Science approach, purpose-built for remote Aboriginal schools.  The program links the cultural knowledge of the local Indigenous community with Western science and the Australian curriculum to build cultural identity, teach science, reinforce literacy and numeracy and introduce technology.
Working with the co-author of the Two-way science approach, teachers are improving thier cultural competency and learning to deliver the program in partnership with Anangu community members, Educators and Rangers.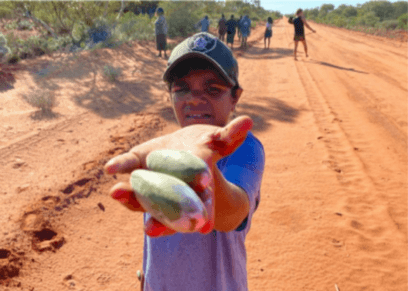 Topics include weather, bushfoods, animal tracking, birdlife, and astronomy. At Yalata Anangu School, early years learnt about the watu (wombat); their habitat, tracks, and droppings, and used motion-sensor cameras to observe them in the wild.  
So far, all schools have reported an increase in community engagement, and thanks to their increased voice and influence, the Anangu community say they feel more empowered. Students are showing a stronger sense of cultural pride and are expanding their home language vocabulary.
Schools Plus CEO Rosemary Conn is delighted by the project: "The impact of family and community engagement in helping students succeed at school has been demonstrated time and time again. This project is a tremendous example of a community and business coming together to deliver a truly integrated learning program that will engage both students and the local community. We are so thrilled to be able to support these schools to implement this program in partnership with SciDev."
SciDev's Managing Director and Chief Executive Officer, Lewis Utting, said: "As a company and as individuals we seek better outcomes for the communities we work in, through our bespoke technology offerings. There's a lot more, however, to good corporate citizenship than just doing business well. We will continue to look at ways we can help our communities and support them. Our relationship with Schools Plus will help lift the performance and opportunities for young people in challenging circumstances and I look forward to reporting successes as the programme unfolds."
The Oak Valley Anangu School cluster includes Oak Valley Anangu School SA, Amata Anangu School SA, Fregon Anangu School SA, Kenmore Park Anangu School SA, Tjuntjuntjara Remote Community School WA and Yalata Anangu School SA.
We look forward to updating you on their progress as these schools work together to help their students succeed.  Schools Plus is currently exploring the expansion of this program into other remote Indigenous schools.