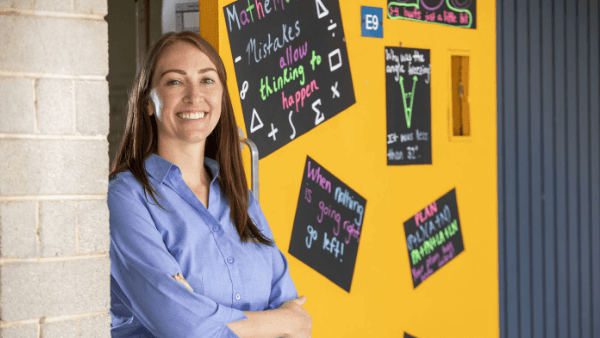 National education charity Schools Plus is thrilled to announce that one of its 2019 Commonwealth Bank Teaching Award recipients, Western Australian maths teacher Ashley Stewart, has been named as a Top 50 finalist for this year's highly coveted US$1 million Global Teacher Prize.
Established by the Varkey Foundation, the annual Prize recognises and celebrates the impact that exceptional teachers have around the world – not only on their students, but on their communities.
"The Global Teacher Prize is an excellent opportunity to showcase the work of amazing teachers around the world. I am extremely humbled by this honour and am proud of the work done to achieve this recognition," said Ashley.
Current Acting Deputy Principal and former Head of Mathematics at South Bunbury's Newton Moore Senior High School, Ashley is inspired by a passion for promoting women in STEM fields. In 2017, she was concerned about the low NAPLAN results of Indigenous students, particularly girls, and chose spatial training – developing understanding of three-dimensional shapes and movement – as a more practical entry into a subject many found discouraging.
Ashley's instinct proved correct. Along with vastly improved classroom engagement, NAPLAN scores have edged ahead of like schools. Especially pleasing are the fewer limited achievement grades from 2017 to 2019.
"Seeing my students own their own education and striving for excellence is my greatest happiness in teaching. I am greatly appreciative of the nomination from Schools Plus for this award. It means an immense amount to me that my school and community can benefit from the generosity of the Varkey Foundation in recognising and supporting teachers around the world."
Ashley has also established an inventors' club and fielded eight teams in the International Mathematical Modelling Challenge, all towards one goal: "to engage students in relevant, meaningful and exciting activities that develop a passion and ongoing interest in STEM professions".
As part of a partnership established between Schools Plus and the Varkey Foundation in 2017, recipients of the Australia-wide Commonwealth Bank Teaching Awards – which are co-presented by Schools Plus – are specifically invited to apply for the Global Teacher Prize.
Schools Plus CEO Rosemary Conn said: "This year's Global Teacher Prize saw nominations and applications from more than 12,000 teachers from over 140 countries. So to have one of our Teaching Fellows recognised as a top educator in the world – for the third year in a row – is a testament to the increasing impact of our Awards program, as well as the expertise and passion Australia's teachers bring to the global stage."
Schools Plus has now had six Teaching Fellows in the Prize's Top 50 finalist list including: maths teacher and YouTube sensation Eddie Woo and Rooty Hill High School humanities teacher Yasodai Selvakumaran who both made it to the Top 10 in 2017 and 2018 respectively.
The 2020 Global Teacher Prize will be awarded in October 2020 in London.